The electric bike is a must-have aimed at everyone! It is no longer considered a "cheat's bike" or one for the lazy. Athlete or amateur, more and more people are becoming converts… and our mountain biking champions are no exception! After the Olympic champion Miguel Martinez, it is the turn of the four-times world XC eliminator champion Titouan Perrin-Ganier to get on an electric model. The electric mountain bike become part of both Titouan's vocabulary and his training. Won over, Titouan is now an ardent ambassador for the O2feel electric mountain bike.
Professional XC Eliminator mountain biker
Winner of a cross-country eliminator triple: World, European and French national champion.
Passionné de sport en général (ski de fond, trail running), des belles forêts de sapins, des vins du Jura, et de la bonne raclette.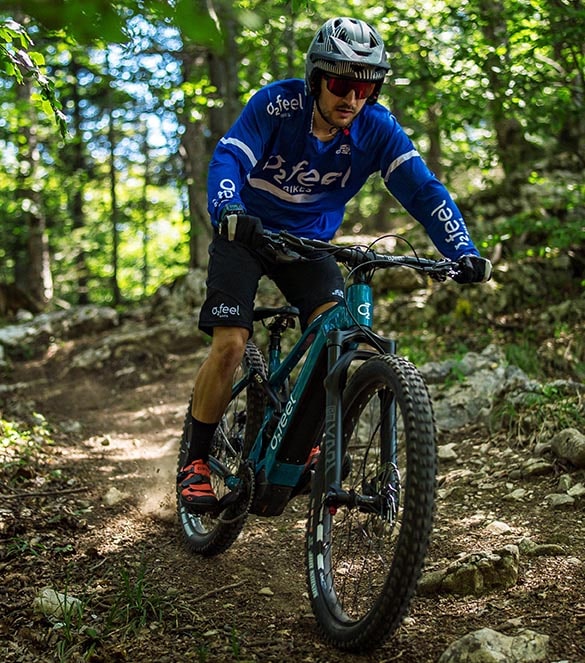 What does the electric bike bring to you in your discipline?
I discovered the electric bike a few years ago and have fully integrated it into my training and my everyday life. I became a fan! Using an electric bike has brought something new to my riding, going further, and exploring new paths. I use my electric mountain bike in particular for my cool-down sessions. I live over 1000 m up in the mountains, so the electric bike allows me to carry out a session with a little less physical effort while working on technique, engagement and speed.
What do you think of the new Shimano motor?
After trying several different brands of motor, I've found that the Shimano motorisation is the most efficient. You don't feel any jolts when pedalling, the motor absorbs the bumps on the ground, the ride is gentler, straighter and more powerful than with other motors. You can now feel you've got wattage on really steep climbs! When the assistance cuts out, above 25 km/h, there's no problem in taking the bike, with the inertia it goes on its own!
Do you ride electric bikes with your family? If yes, why?
I often ride electric bikes with my family, especially with my girlfriend and my little girl. The electric bike allows me to juggle family life, sports and training. We've invested in a trailer to take my family on our trips, but that adds an extra 30 kg, so the assistance is more than welcome! We also often go out just the two of us, on a trek, for pleasure and to take some time for ourselves.
My secret spot is a little above where I live; it's called Mont Peney (it's relatively unknown). It's a mountain with an enormous 500 m cliff and an unimpeded view over the Chambery basin. There's a really steep climb to get there, which is hard to do on a regular bike: so I opt for my electric bike, which allows me to climb the technical and craggy paths. Afterwards there's a huge descent of about 10 minutes: beautiful forests, great wild single tracks, it's the best!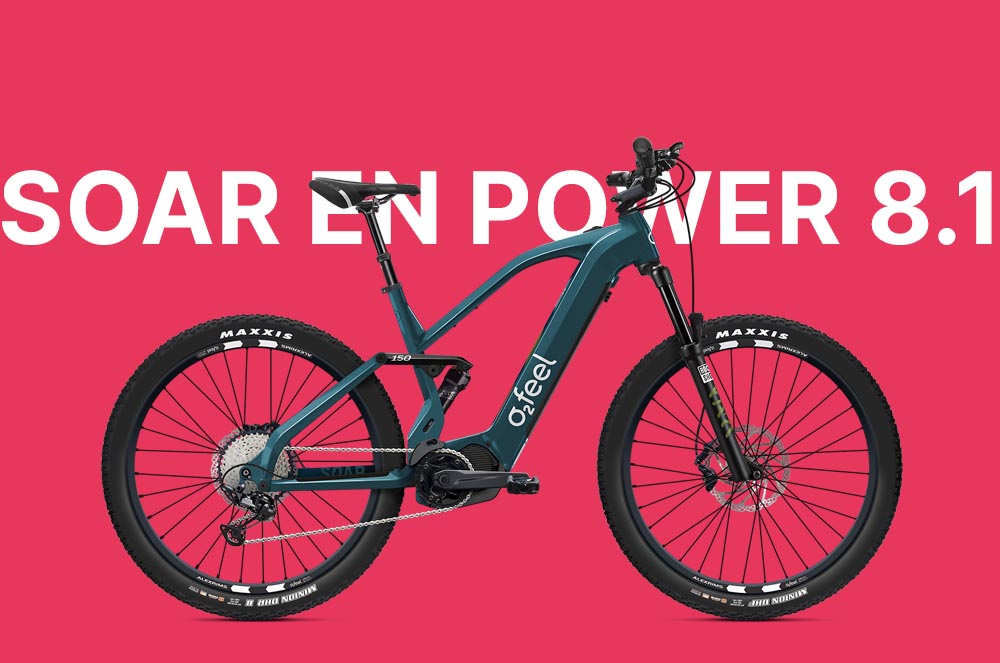 With its powerful integrated battery, the Soar is equipped to allow you to be fast and technical during descents, performing and enduring when climbing, to give you a maximum of thrills.
Full suspension, ultra-high-performance and top end mountain bike.
Fitted with the Shimano Steps EP8 85 Nm motor. Integrated iPowerPack Advanced 720 battery. Delivered with its 4A fast charger. RockShox Yari 160 mm suspension. RS Deluxe 230 shock absorber.
The electric bike is a perfect tool for warming up, training and even cooling down. It allows you to keep the technique, and change elevation continuously, while maintaining the wattage. Muscle-powered and electric are not incompatible! It's a different pleasure and another way of riding. The assistance also allows for reducing differences in ability and sharing time together, with friends or family. With the SOAR Enduro as part of my training, you'd better be ready!