Shimano has developed progressive electric assistance that allows for a natural pedalling feeling while staying faithful to classic bike riding.
As a long-standing partner of the Shimano brand and its central motorisation range, O2feel has committed long-term to the world leader in bike equipment, confident in its more than 100 years of expertise and its innovative capacity.
O2feel was able to incorporate this high tech motorisation into the design and quality philosophy we share with Shimano. Living better also means making the most of each moment and making your everyday life a series of simple pleasures, just like a ride on an O2feel.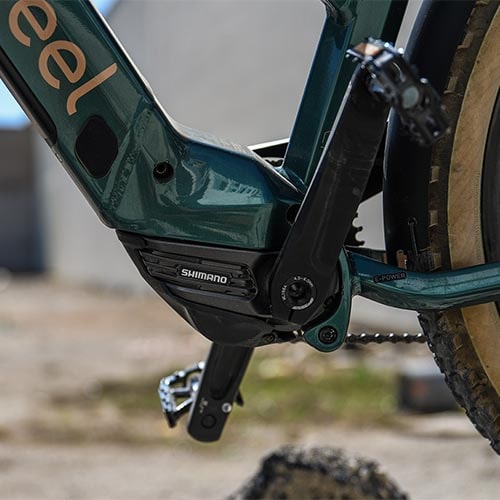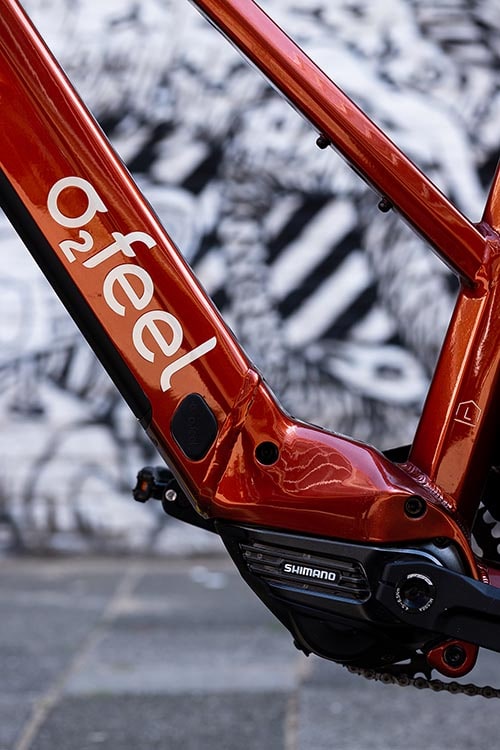 A partnership that began in 2012 with our first top end model, the SWAN equipped with the Shimano STEPS E6000 first generation central motor. Innovative technology characterised by a lightweight, powerful motor integrated in the chainset.
In 2017, O2feel developed its first range of electric mountain bikes under the brand KARMA bikes. An electric mountain bike equipped with the best technology on the market, a Shimano Steps E8000 motor for high performance, torque adapted to extreme riding and robustness to take on any challenge!
The plan for this long-standing collaboration is to offer a new range equipped with a Shimano chainset motor, combined with batteries entirely created, developed, tested and designed by the O2feel e-bikes "LAB" in France.
The specific feature of these batteries?
They comply with the strict requirements specification enforced by the outfitter Shimano to achieve perfect communication between the battery and the motor. Our batteries are made from 21700 cells; cells originating from the automotive world offering ever larger capacity thanks to unique cell characteristics. Thus we develop remarkably long life batteries, capable of withstanding a higher number of recharges than standard batteries on the market.

European technology leader and with Shimano innovations on our bikes, we have been able to integrate this high tech motorisation in our bikes with a distinct design to achieve a sleek final product.
Shimano innovates and develops several motors, each one designed for different and complementary use and adaptable depending on your needs and usage.
Motors built on experience and 100 years of innovation, each with specific settings and assistance adapted to your riding and activity.
It's therefore important to support you in your choice of electric bike depending on your use and expectations.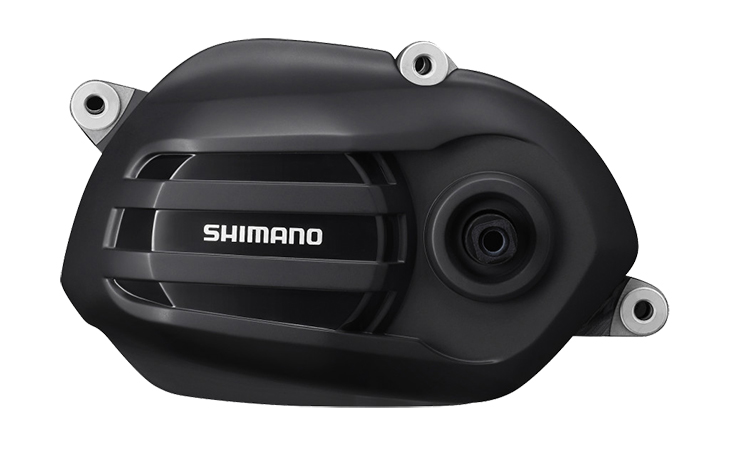 The motor best suited to the city. It's lightweight (2.5kg), powerful and feels natural to ride. This 250W motor develops 40Nm torque and has 3 assistance levels: Eco, Normal and Power.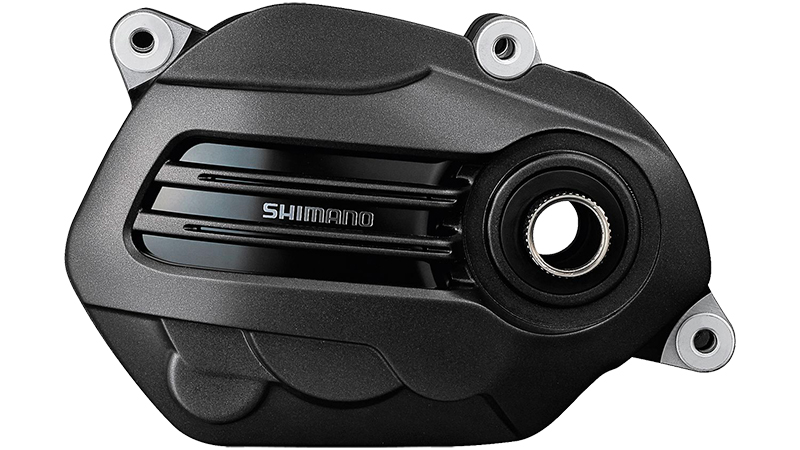 3 assistance levels and a versatility from the first turn of the pedal. This 2.88 kg motor has top end components to deploy optimal power and pedalling comfort. An elegant and compact design that fits perfectly in our frames. This motor provides 60Nm torque capable of quick acceleration and giving complete reliability uphill.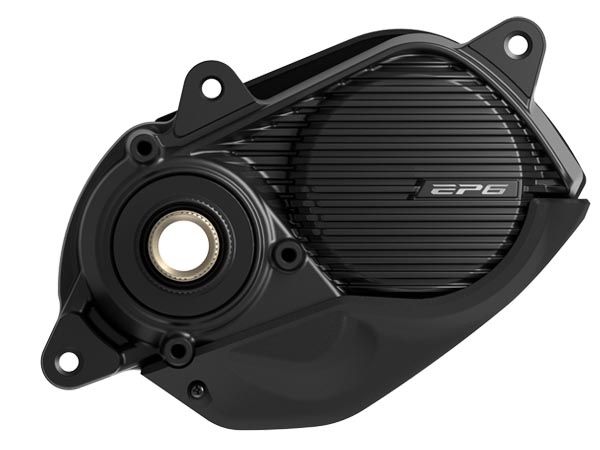 New Shimano drive unit, the more affordable version of the EP8, designed for urban and off-road bikes. This next-generation drive unit gives an incredible Boost to your ''commutes'' :
85Nm torque – 2.9kg weight – 250W continuous rated power with peak at 500W – Natural pedalling – Reduced heat buildup.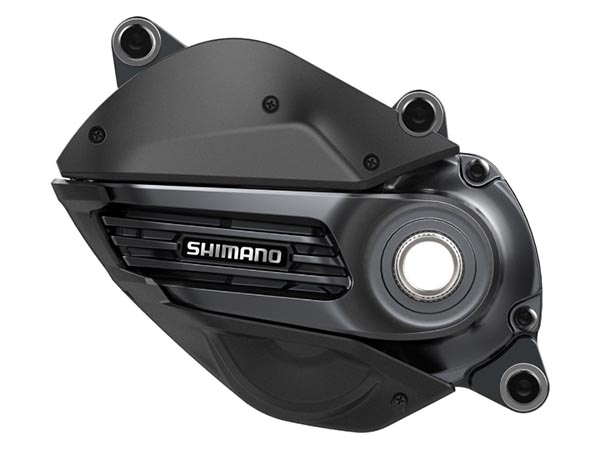 Heighten your thrills on the tracks and trails while maintaining natural, smooth pedalling. This EP8 motor has become an essential for cycle track enthusiasts.
2.6 kg and 85Nm torque make it effective on the steepest climbs. No more excuses about climbing to the peak, this gem of technology will keep up in all weathers and on all surfaces.
SHIMANO STEPS E6100 Cargo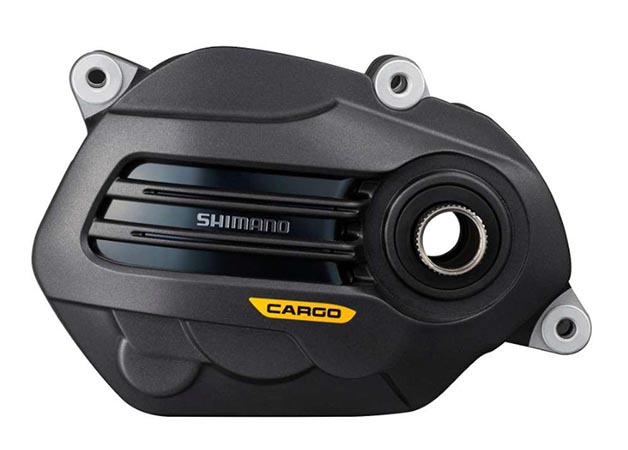 It's now possible to carry your children, your shopping or even your large objects! 60Nm torque, weighing 2.76 kg and 250W continuous power rating, this motor incorporates new specially developed firmware to adapt perfectly to the requirements of a cargo bike.
You will enjoy it even with a heavy load: easy start up, pedal smoothly, assisted movement.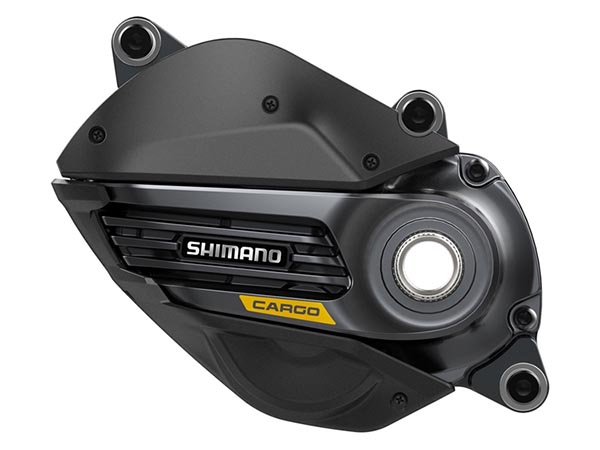 The pumped up version of the E6100 cargo. This powerful, compact motor incorporates the innovation and technology of the EP8 with a specially developed firmware for cargo bikes. We have integrated this motor in our cargo bikes to offer you a top end, high performing bike. Charge it, ride and above all, enjoy!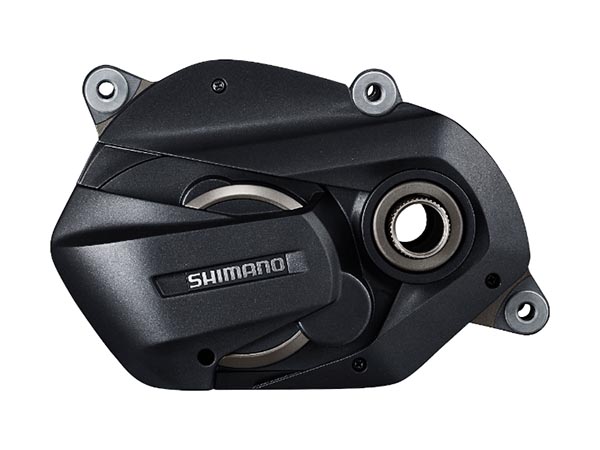 More than a motor, an ideal asset that can be integrated in our electric mountain bikes. Reactive (250W continuous) and powerful (60Nm torque), this lightweight motor will improve the handling of your electric mountain bike both uphill and downhill. Mountain biking fans will like facing the unthinkable with the appropriate assistance under the pedals.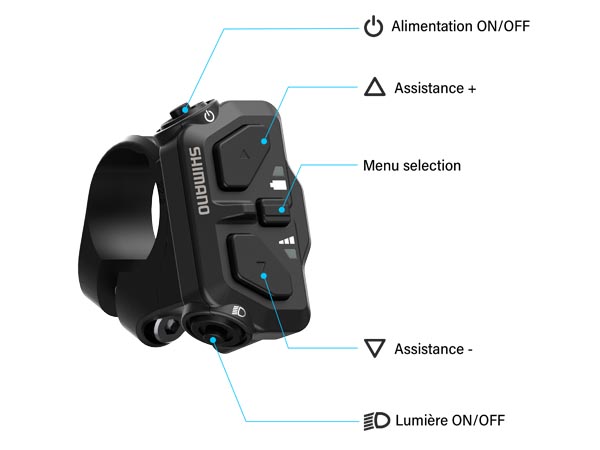 Sleek design for this compact cycle computer,
colour LCD display. Customisable dashboard to show the 4 key riding metrics per screen
Precise battery level: 10 power bars
This display is combined with an assist switch unit on the side to select the assistance levels (up/down arrows) and turn the bike on or off. Use the middle button to select the display screen you want.
Torque power is measured in Newton-metres (Nm).
It's the force of the motor.
The higher the motor torque, the easier your electric bike will climb hills.
The greater the elevation of your surroundings, the more force your motor should have. Conversely, if your elevation is similar to the flat country of northern France, a motor with less torque will be effective enough and use less of your battery.
To keep it simple, it's the distance between the cranks measured in parallel to the bottom bracket. On the central motor of electric bikes and electric mountain bikes, the Q Factor was previously bigger to house the motors. Systems such as SHIMANO STEPS now offer the same Q Factor as muscular mountain bikes. It stays true to the philosophy of natural pedalling.