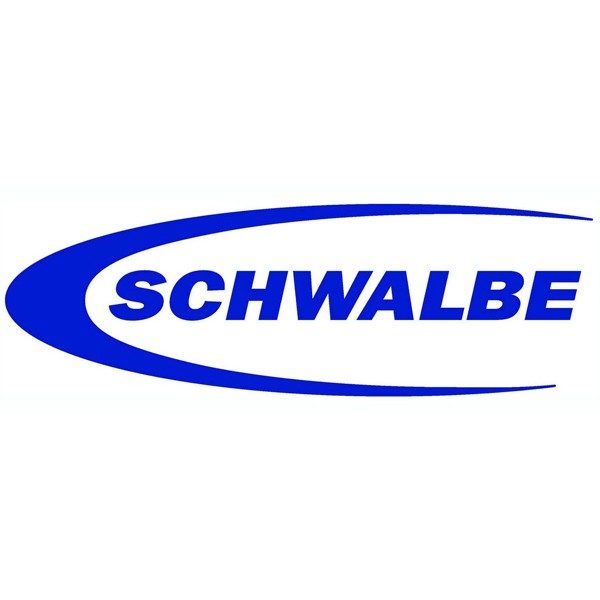 It all began in 1973 when Ralf Bohle, brand creator, took the decision to innovate and create more suitable, more sophisticated, more innovative tyres. The company has since become the European leader and continues to grow and export to the market's specialised stockists. Anecdotally: Schwalbe means swallow in German, a bird that signifies luck in Korea, an export country of bike tyres selected by the brand's founder at the beginning of its creation in 1973.
Schwalbe fits its tyres with an anti-puncture system made from Kevlar fibres: K-Guard, GreenGuard, RaceGuard or SmartGuard. Innovation and technology mean you can safeguard your trips and they will adapt according to your bike, the surface on your rides and your cycling behaviour.
Schwalbe is focussed on road safety and certifies each of its tyres. The CEE 88 directive guarantees increased wheel visibility from any angle as well as a powerful, shiny reflected light. It is characterised by the reflective white strip on each side of the tyre.
At O2feel we have chosen to work with Schwalbe to meet our requirements as well as the needs of our electric bikes. Each bike has its own use and therefore its tyre type depending on usage.
The choice of Schwalbe is an obvious one from a technical and innovative perspective, but also for our different uses: urban, tourism, utility, recreation, country, tracks, transport, sport, mountains, etc.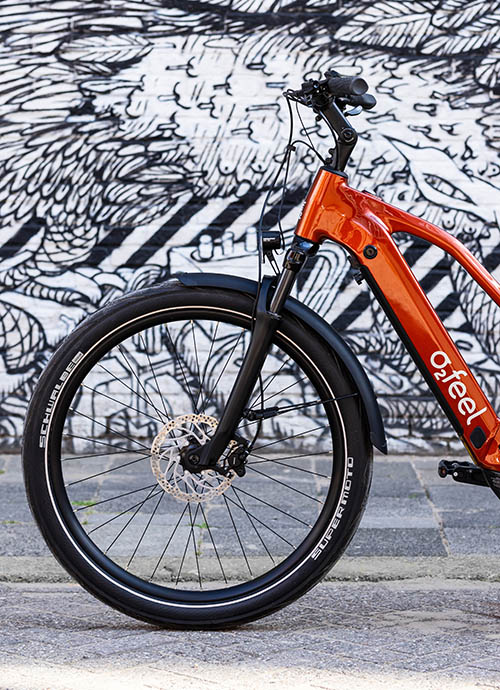 Every tyre has a different profile and therefore a different use, here are the tyres chosen by O2feel for its bikes:
A profile adapted for dynamic behaviour, urban with good grip. This top end tyre is made from an innovative "Green Compound" rubber, a blend of raw and recycled materials. It has K-Guard anti-puncture protection with
Kevlar fibres.
A near "puncture-proof" profile. Go ahead and ride on all surfaces thanks to the serrated moulding suitable for loose tracks and the tightened spikes at the centre of the tyre which adapt perfectly to the tarmac in cities. This tyre comes with "SmartGuard", a 5 mm layer of highly elastic rubber providing strong resistance to punctures.
The unusual profile of this tyre will give your electric bike a motorsport look.
Optimal grip and rolling resistance defines this tyre that guarantees you exceptional riding thrills. A tyre reinforced by RaceGuard technology with a fibre mesh for increased resistance to punctures.
A strong profile with a soft heart. Between intense comfort and performance this tyre always amazes, even after three generations! Balloonbikes technology reproduces natural suspension. With a RaceGuard reinforced coating with 2 layers of Nylon material strengthening the carcass.
A heavy lifting profile! This tyre is the first real tyre intended for cargo bikes. Extremely solid, this tyre offers optimal safety even with a heavy load. Its double carcass, its high performing ADDIX E-Compound rubber safeguards your rides on the roads. Give yourself greater peace of mind with the multiple sub-layers that strengthen the anti-puncture protection.
Clarification: this tyre tolerates different inflation pressures depending on your load.
A multidisciplinary profile. This mountain bike tyre can adapt quickly: go from road to off-road without feeling a change in grip. It's perfect for an electric mountain bike. Defence in the face of challenges: RaceGuard and SnakeSkin for maximum safety.
An enduro, all mountain or even cross country profile. This tyre with various uses benefits from an updated design for this new season. Greater stability, better block distribution for optimal traction and braking with central spikes. ADDIX technology strengthens the anti-puncture protection while maintaining riding flexibility and good grip. You're all set for your next trail!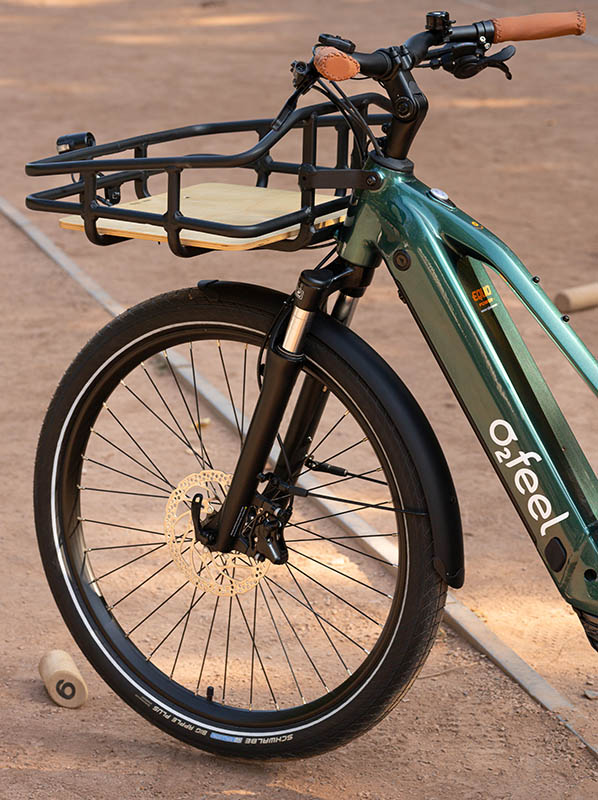 Your tyre checks start with inflation. A tyre with the right pressure safeguards your rides in various ways: battery life and optimal grip, supports the bike and cyclist weight, reduced risk of punctures and/or rim distortion.
Your tyre wear depends on adherence to the recommended pressure on the side of the tyre. Incorrect inflation causes premature tyre wear and therefore there is risk of punctures and accidents.
We recommend you check this regularly (once a month) and adjust it with a bicycle pump by referring to guidance provided in your user manual or on the side of the tyre.
Schwalbe tyres have the ECE-R75 label: this is a certification for bikes travelling more than 25 km/h and up to 50 km/h, more frequently called "Speedelec" or fast bikes.
Since the safety priority on an electric bike is without doubt the handling, we have selected the German brand that is most recognised in the cycling world.