Designed and developed by our engineers, O2feel batteries are among the most efficient on the market. We harness the very best cutting-edge technology: lithium-ion, autonomy management software, latest-generation cells.
Why produce our own batteries?
At O2feel, we have complete control over the life cycle of our batteries by producing, repairing and recycling them.
Such expertise means we are able to guarantee our batteries for 4 years. We are unique on the market in offering this service.
O2feel e-bike warranty periods:
Frame: 5 years
Electrical components (excluding wearing parts): 2 years
Mechanical components (excluding wearing parts): 2 years
To activate your 4-year warranty, all you need to do is simply fill in the form below.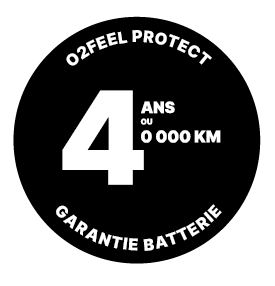 You can sign up for this service within 30 days of your purchase, starting January 1, 2023.
O2feel reserves the right to ask you for proof of purchase of the O2feel bike.