Recognised as one of the market leaders in its category, Maxxis is a serrated tyre specialist for electric mountain bikes.
Founded in 1967 in Taiwan by Luo Jye, Maxxis is a subsidiary of CST, present in over 180 countries. It only produced bike tyres before opening up internationally.
Today the company is one of the biggest tyre companies (10th in 2018), it has since opened up new market segments and produces tyres for the automobile, leisure, transport and other industries.
So many uses mean that the company can merge several technologies from different industries to develop a tyre that perfectly meets the requirements and has unique innovations.
It is possible to become sustainable, responsible and ecological in a sector such as tyre manufacturing, and Maxxis is proving it by having minimum impact on the environment.
With Maxxis, O2feel has the assurance of quality and constant innovation when it comes to tyres. We want to offer the best on the market and Maxxis is an undisputed leader.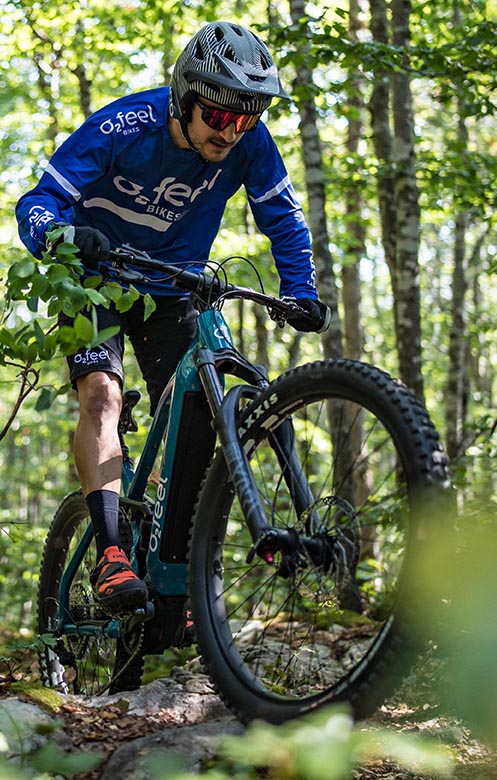 A serrated and sharp profile. This tyre with lightweight bead is perfect and adapts just as well to a dry or damp road without difficulty, then back on a loose, somewhat erratic track. Roam the trails and roads with unbelievable stability!
It has EXO Protection technology, a material (fabric) resistant to tears and abrasion on the sides. Enjoy a more difficult or rocky trail and Maxxis Ardent will take care of your safety.
N.b.: Tubeless Ready* compatible tyre
An enduring profile and expert of the trail track.
This tyre fits on the front of certain electric mountain bike models. It is designed to combine braking efficiency and ground traction even on tight bends. Perfect efficiency on the tyre tread. You will enjoy your rides on single tracks in the forest or bumpy tracks. The Minion is the perfect answer for steep descents or climbs, on a trail or endurance
A trail profile and a professional at difficult endurance. This back wheel is your stability and safety asset but above all provides your thrills on track! Its unique tyre tread grips perfectly and makes for high performance riding. Each spike is analysed to meet a specific need and make your trip unbelievable.
Combine DHF and DHR tyres, it's the ultimate combination for optimal thrills on your electric mountain bike.
The technology and innovation incorporated in these tyres are achievements that you will appreciate on your next rides: